Undermaster – Create your own dungeon
Your rise in online fun begins with a descent. In the eerily beautiful browser game Undermaster you go underground. You will build your own dungeon there. You can expand it over six levels, eight different rooms are available to you at the beginning. Lay floor slabs and thereby attract the creatures of the deep.
Meet earth imps, trolls, vampires, warlocks and goblins. Use their skills and manage your own monster dungeon. Experience the impressive game underground and prove that you have the skills and planning foresight of an undermaster.
UNDERMASTER ON UPJERS.COM
They are small, they are hardworking and they are the first to enter your dungeon: the earth imps. The little guys are tearing down walls and they love to cook. The preparation of juicy steaks is their specialty. In the browser game Undermaster, the earth imps populate your dungeon as the first inhabitants. Do you love free online role-playing games and free strategy games? Then become an Undermaster now and manage your own dungeon. You start building below the surface of the earth. You lay floor slabs and thereby attract legendary creatures. The earth imps come first, followed by illustrious creatures such as trolls, goblins, warlocks, vampires and the succubus. This is a demon who uses her whip to fuel the dungeon's zeal for work. Because each of your creatures in the game has special abilities that you can use to expand your underground passages and rooms.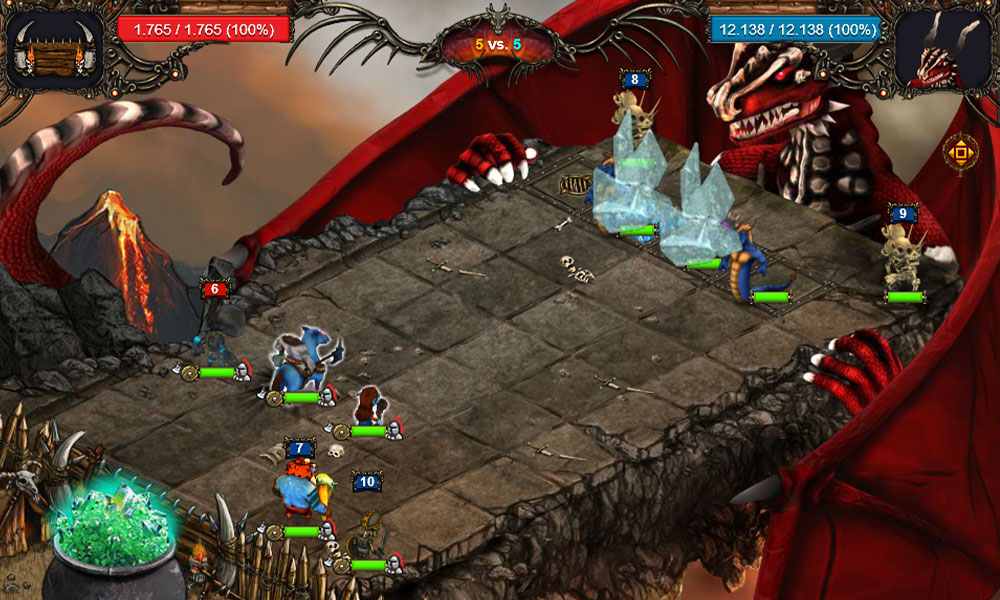 Experience a fascinating browser game with Undermaster that offers you cool online game features in an impressive setting. Let the goblins work as inventors in the workshop and manufacture great products at the workbench for export orders. Trolls are true masters at tool making. In order to be able to do their work, they need the forge. You can build eight different rooms in Undermaster at the beginning. You can even build your entire dungeon over up to six levels. Undermaster enables you to develop your own online game strategy in your dungeon and at the same time offers you a humorous framework. Manage your own dungeon now and play for free. All you need is a PC with an internet connection and you can start working.
FREE ONLINE STRATEGY GAME
Good role-playing games are popular and inspire people all over the world. In the strategy game Undermaster you slip into the role of a dungeon builder. You design your own underground system of corridors and different rooms. Create a dungeon according to your ideas and attract eerily beautiful creatures. Trolls, goblins, warlocks – they all come to you as soon as you have created the appropriate rooms. This works by laying floor slabs. The special character of the room is decided depending on the type of floor slab. For example, trolls work in the forge. There they make tools. The sorcerer likes to stay in the library and vampires need a crypt appropriate to their class. In Undermaster you can use the abilities of every creature to expand and design your dungeon. Use free strategy game options. The earth imps tear down walls, the sorcerer generates knowledge with his lectern that can be used for research and the goblins are skilled inventors who plow in the workshop.
In order for your dungeon residents to work as efficiently as possible, you have to take care of their needs at the same time. Get the warlocks and goblins a delicious meal, let the earth imps sleep regularly and send the vampire to the surface to hunt so that he can quench his thirst for blood. Otherwise, the blood-sucking night figure begins to tap into your earth imps, who lose energy as a result. To stimulate the work ethic of your creatures in the strategy game, you can also send the demon Succubus. She swings the whip and motivates your residents to work faster for a certain period of time. Experience strategy games online with Undermaster, the humorous dungeon game. Discover the free online role-playing event.
Further features UNDERMASTER
playable for free
playable as a download game or as a browser game
Register once, play everything
Mixture of strategy and role play
Can be designed individually (played 1,000 times, 1,000 different dungeons)
THE BROWSER GAME IN THE UNDERWORLD
If you like free strategy games, you will be delighted by Undermaster. The browser game gives you access to an extraordinary world. You go underground and start building your own dungeon. You can design and redesign this to your heart's content. The further you advance through the levels, the more cool online game options are available to you. Encounter adorable creepy creatures. Trolls, vampires, sorcerers, earth imps scurry through your underworld. Use the skills of your dungeon residents to design a variety of rooms, have products made, post colorful torches and illuminate the eerie scenery with green, white and red light in an eerily beautiful way. Undermaster has especially detailed and lovingly designed online features. Make friends with fellow players, visit them daily and help them in their dungeons. Mine the premium currency crystals in your corridors, which you come across again and again while working.
Expand your dungeon over several levels, position stairs and watch how earth imps and Co. distribute themselves independently on the levels. Explore the bizarre and fantastic world of Undermaster. Create a free portal account on upjers.com, if you don't already have one, or use your existing account. Log in and play now for free! Complete free online role-playing challenges. Because Undermaster can – like other free strategy games from upjers – be played completely free of charge. Meet the creatures of the underworld who are already waiting for their Undermaster.
Play UNDERMASTER now
good
playable for free
changeable
beautiful graphics
bad
The intensity of the game increases over time